Welcome to the Broken Earth Winery Blog
---

We have been focusing on the practice of sustainability at both our winery and estate vineyard quite intently the past couple years and want to share one of the projects that has been implemented, SWEEP (State Water Efficiency and Enhancement Program). On a recent trip to our estate vineyard, our Designer and Brand Coordinator Kate Hauber and I met up with Vineyard Manager Oliver Matthews, to discuss the updates Broken Earth Winery has made by implementing SWEEP, which is a grant distributed by the California state government.
First off, the SWEEP grant program was created by the California Department of Food and Agriculture to provide financial incentive for California agriculture operations to administer more sustainable agriculture practices. The grant requires investing in updated irrigation systems, which reduces greenhouse gas (GHG) and conserves water, tackling two environmental issues as once. The application process is very competitive and needs to include a detailed plan on how the grant will be spent to better the overall environment. We were fortunate enough to be awarded the grant for both 2015 and 2017, allowing for modern updates to the vineyard, which was originally developed in 1973.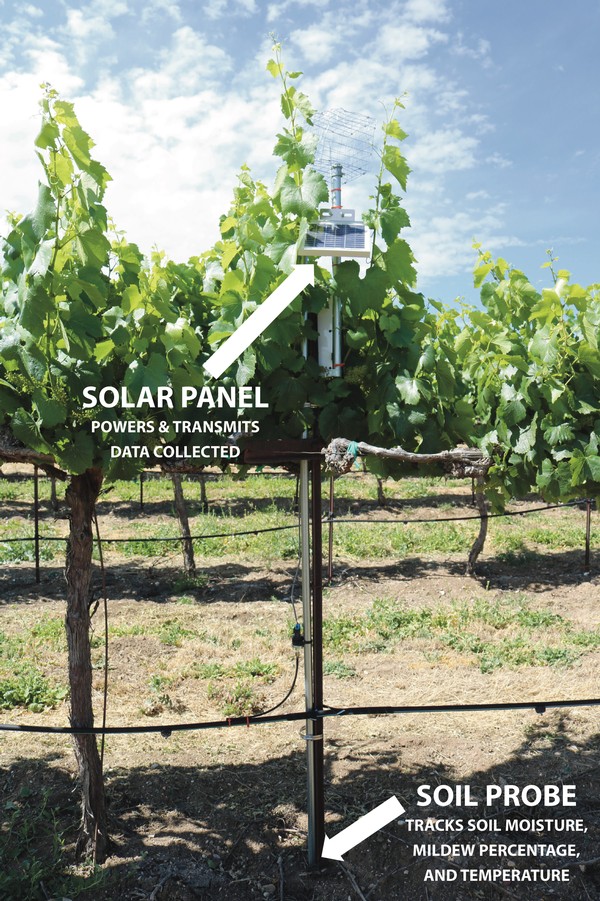 While touring the vineyard, Oliver explained how the 2015 grant was used and what was planned for 2017. Our first stop focused on the newly installed weather stations and soil probes to track soil moisture, mildew percentage, and temperature. These two separate mechanisms work hand-in-hand via satellite.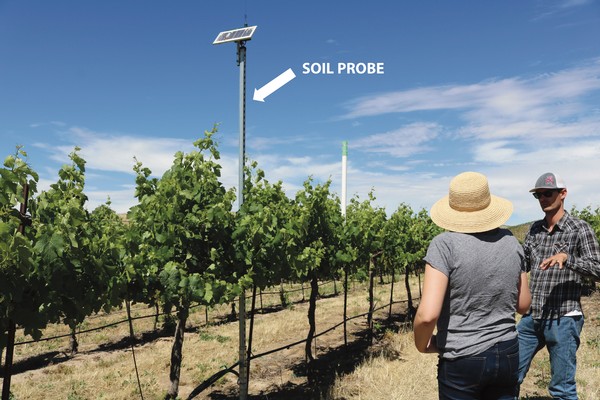 There were three soil probes installed throughout the vineyard. The probes, which act as an irrigation monitoring system, go five feet into the ground, containing sensors at every six-inch point along the way. Data collected from the probe can then be used to better understand the optimal time to water. According to Oliver, "the sensors allow us to track irrigation in a more efficient manner and get our thumb down on what the vines really need", thus reducing excessive use of water and reduced labor costs.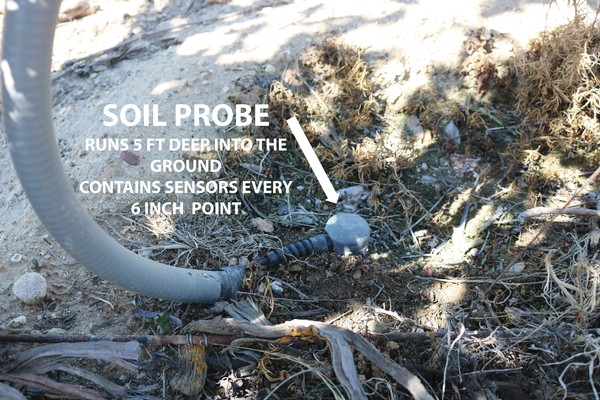 With help from the weather stations, water is also conserved during the first phases of bud break, one of the most suspenseful times during the growing season. The biggest threat during this time is frost, therefore much of the vineyard is equipped with sprinklers that need to be turned on when temperatures dip below freezing. There are two weather stations throughout our 2,500 acre property, with more coming online soon. Before these were installed, we were dependent on other stations located close to the property, which meant the temperature data was not as accurate. This led to potential overuse of water, but with precise temperature data from the vineyard, we can better know when to best use the frost protection system, which again ultimately conserves water and energy. Oliver also appreciates the more accurate temperature readings because it may save him a few early 3a.m. trips out to the vineyard.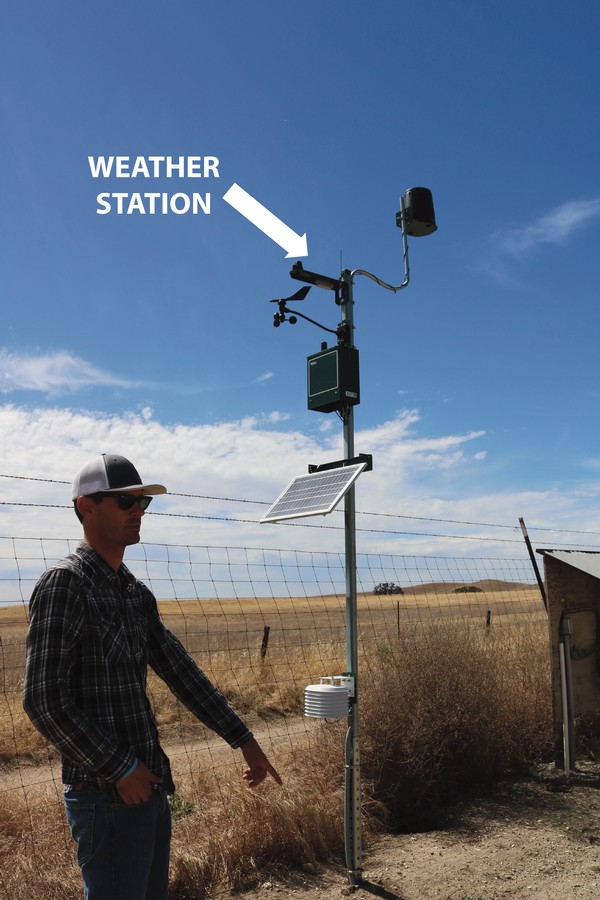 A lesser-known threat to vines during the growing season is powdery mildew. To better understand how to manage this fungus, the weather stations also have a mildew calculator that measures moisture in the air as well as high and low pressure systems. With higher air moisture and lower pressure, the chance of powdery mildew growing on the vine's leaves is much higher, therefore a fungicide may need to be sprayed. Precise data readings allows us to better understand when spraying is needed and reduces the number of sprays overall. Spraying against powdery mildew accurately and less often reduces tractor passes, which reduces fuel usage and allows for less soil compaction. Soil compaction reduces pore spacing in the soil, leading to less water absorption, a slow down of aeration, and can stunt the growth of roots. These are just a few reasons as to how using weather stations and soil probes can reduce water usage and GHG.
Since we were also fortunate enough to earn a grant for 2017, our next stop at the vineyard took us to a west facing hill that will be the future home of solar panels. The goal of this project is to make our irrigation system completely energy independent. With hundreds of acres planted over the past year, our irrigation system needs more clean power to run efficiently which is why this project integrates with our sustainability goals. This project will begin over the summer and we hope to have the panels functioning by early next year.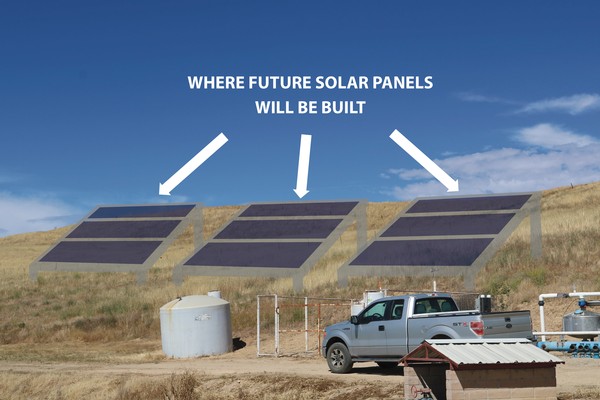 The inspiration behind the SWEEP grant was to get California through the drought and introduce new farming technologies to farmers across the state. For Broken Earth Winery, this grant has given us the opportunity to implement many new technologies for a greater purpose. In conjunction with the SWEEP grant, we hope to continue our mission of sustainability for the betterment of both our local and global environment, as well as our customers, so we can all enjoy sustainably grown wine.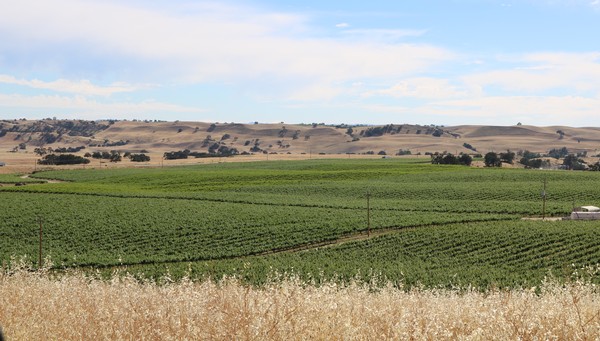 Facebook | Instagram | Twitter |
Photo Credit: Kate Hauber