Welcome to the Broken Earth Winery Blog
---

In more ways than one, we are focused more and more on the environment. This photo shows the delivery of our second new tractor that replaces older, higher emission units. In addition, we are also replacing our two major well pump engines with cleaner, more fuel-efficient machines. All contributing to decreasing our carbon foot print dramatically.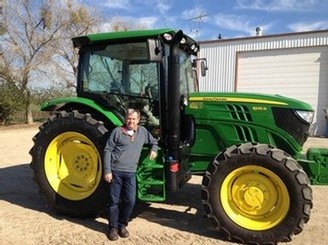 This current initiative alone represents an investment of more than $400,000 and it emphasizes our commitment to the environment.
2015 also sees an aggressive approach to soil amelioration and our determination to give back to the earth. We have just completed a major program that saw the application of 1,800 tons of compost following a unique deep ripping process. Every second row is deep ripped near the vine's surface roots and a floating plate lifts and breaks the sheets of soil ripped. This allows valuable intake of air and a more direct target for compost application.
The amazing results of this program can easily been seen in this second photo. This is a shot of our mid-row crops and it echoes the health of the soil. Once going to seed, which is the time the crop is at its peak with Nitrogen, the crop will be cut and disked into the soil, providing valuable free Nitrogen and organic 'bulk'.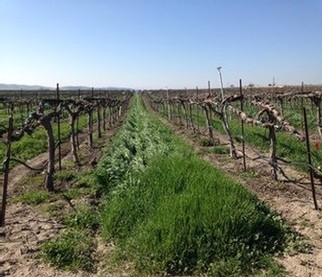 We have also progressed with our new plantings and we have decided to experiment with different varieties. In addition to the 'staples' of Cabernet Sauvignon and Zinfandel, we are adding Cabernet Franc, extending our Petit Verdot plantings, as well as more Tempranillo. What is also exciting is the addition of Fiano, Torrontes and Nero d'Avola. While these are smaller plantings, they will add to the array of exclusive parcels we produced primarily for you, our wine club members.
Cheers,
Chris