Welcome to the Broken Earth Winery Blog
---

An important focus here at Broken Earth Winery is education; educating the general public as well as furthering our own education within the wine industry, there is always more to learn! Every month we like to dive deep into a technical tasting with our staff to broaden our horizons and continue to expand the wine knowledge we have to share with our customers. This month we decided to focus on the wine varietal, Vermentino. For this particular tasting, we went through four vintages of Broken Earth Vermentino, 2015, 2016, 2017, 2018, as well as analyzed some guest Vermentinos from other Paso Robles Wineries (Tablas Creek, Robert Hall, Vina Robles), and an imported Vermentino from Sardinia, Italy, one of the main growing regions of Vermentino.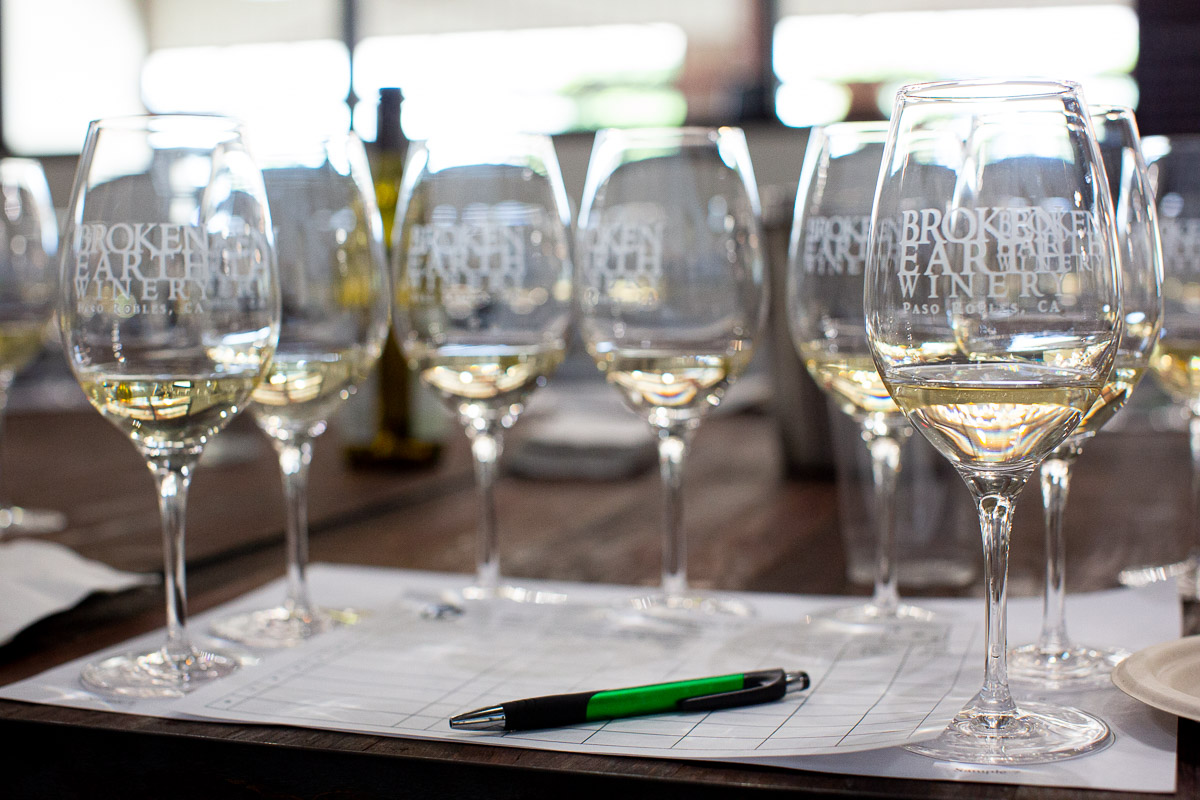 While some might argue that Vermentino comes from a Spanish origin, the best-known examples come from specific areas of Italy, and those areas have more or less adopted Vermentino and made it a more well-known varietal than it would have been otherwise. It is grown mainly on the island of Corsica, but can also be found in Liguria of Northern Italy and the island of Sardinia, while in Cotes de Provence and Languedoc the grape varietal is growing in popularity and goes by the name Rolle. This particular white varietal thrives in the dry, hot climate, ripens later in the season, and is drought tolerant making this thin-skinned white grape perfect for growing on the east side of Paso Robles!
Our resident research guru, Richard Provensen, gave a presentation to our staff covering the history of Vermentino and the growing regions it is known for as well as guided us through the tasting. He also prepared a special food pairing for our tasting; a perfect pairing and an unpairing. The perfect pairing for Vermentino was homemade tuna salad, made with homemade mayonnaise, a dash of lemon, topped with parsley, served on a French baguette. It brought out the bright and crisp citrus notes without overpowering the wine; it worked well and improved almost every Vermentino in our tasting! The unpairing was peppered pastrami; it was intended to showcase what flavor profile does NOT work with Vermentino. It was difficult to taste through all the wines paired with the pastrami, the pepper was too strong and the meatiness of the pastrami flattened out the Vermentino making them feel lackluster. It was an eye-opening experience to compare how food can help enhance wine and how it can hinder your taste buds when it comes to experiencing wine. Richard is an important part of our team that loves to discuss the intricacies of wine for anyone who is interested, stop by our tasting room during the weekdays and you might be able to catch him and have a nice long chat about your favorite wine and learn about the history behind it!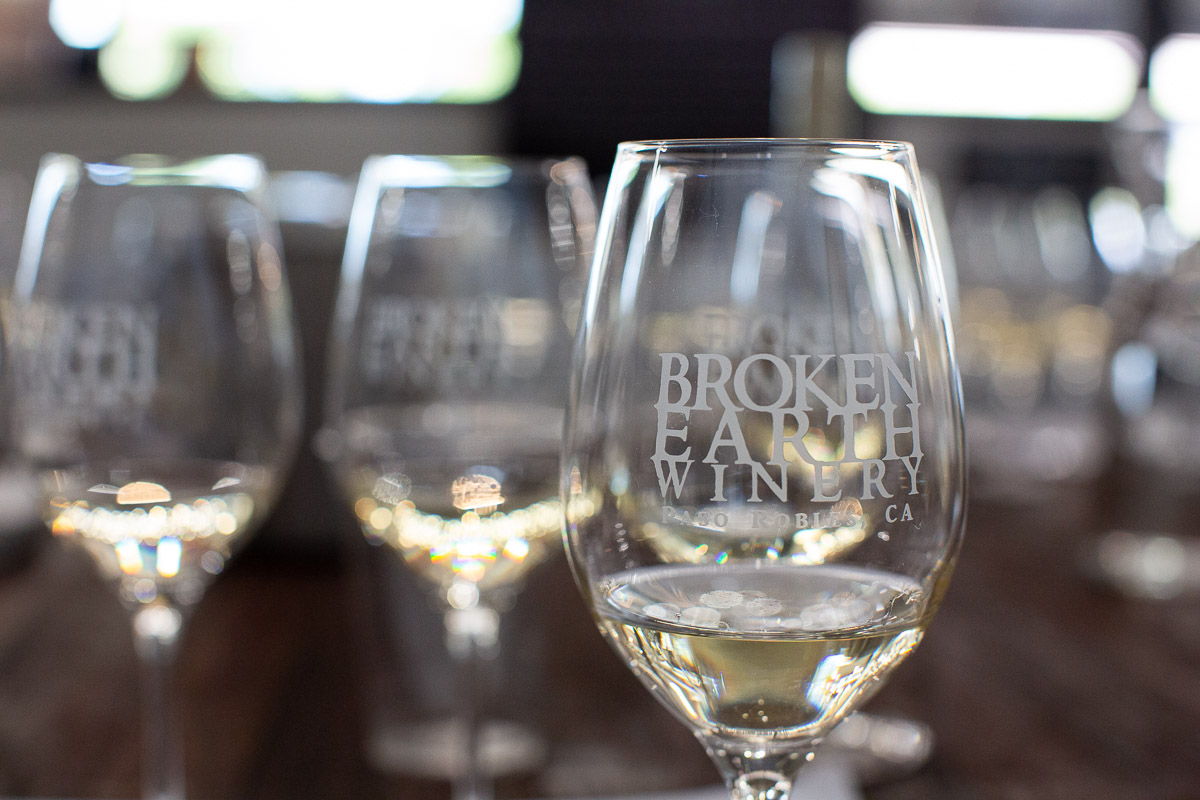 The resounding favorite of the team had to be the 2018 Broken Earth Vermentino, which is always comforting when everyone enjoys the brand they work for the best! With a super floral and bright nose reminiscent of the Asian Lychee fruit, it immediately stood out from the bunch as the most aromatic. The mouthfeel was tingly and tart, leaving a refreshing crisp flavor of lemon, green apple, and minerality. The finish left the palate wanting more! Our wine club members will be the first to try the 2018 Vermentino most likely towards the end of 2019.
The best part about this tasting was that every single Vermentino was drastically different from the rest, not just vintage to vintage but one Vermentino from Broken Earth and another from Vina Robles, both in the same vintage and grown fairly close together on the east side, were completely different in terms of style. The only true way to do a comparison like this is to taste side by side to really appreciate what an artform winemaking can be. Probably the most interesting comparison was the imported Vermentino from Sardinia, Italy compared with all the Vermentino from Paso Robles. The mouthfeel of the import had more creaminess, appeared more golden in color, had more fruit and sweetness to it, but finished bone dry. It is also interesting to mention all of the wines had a screw top finish except for Robert Hall and the Italian Import, and that Tablas Creek is the only Paso Robles winery growing their Vermentino on the west side, whereas all the rest of the Vermentino's come specifically from the east side. The team had a blast exploring this vertical flight and are eager to get as much educational experience as possible to share their knowledge with our customers. Stop in today and ask our staff about our Vermentino vertical tasting and peruse the rest of our wine flight!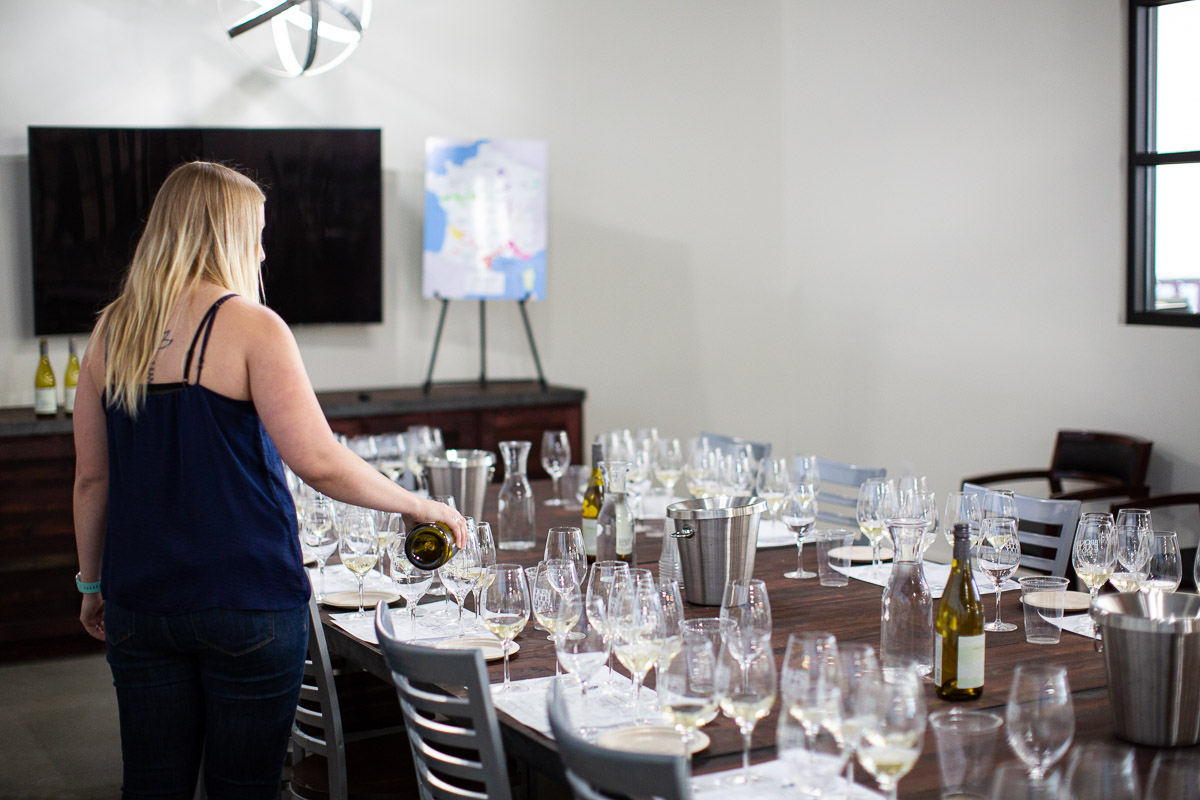 Welcome to our brand-new tasting room.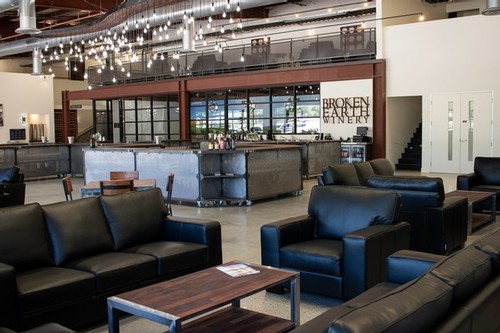 If you've visited us, you've probably met me. I'm Maury, the Tasting Room Manager and I would like tell you a little bit about it.
At the heart of our new tasting room, we wanted to focus on three things: the aesthetics, the customer experience and wine education.
First the aesthetics. As soon as you walk in you'll probably notice, aside from the vast size, the mix of industrial materials and the oak wood throughout the space. Some have dubbed it "industrial chic", but whatever you call it, our intent was to utilize the space's environment to highlight the history of the vineyard, winemaking, and the originality of the Paso Robles area.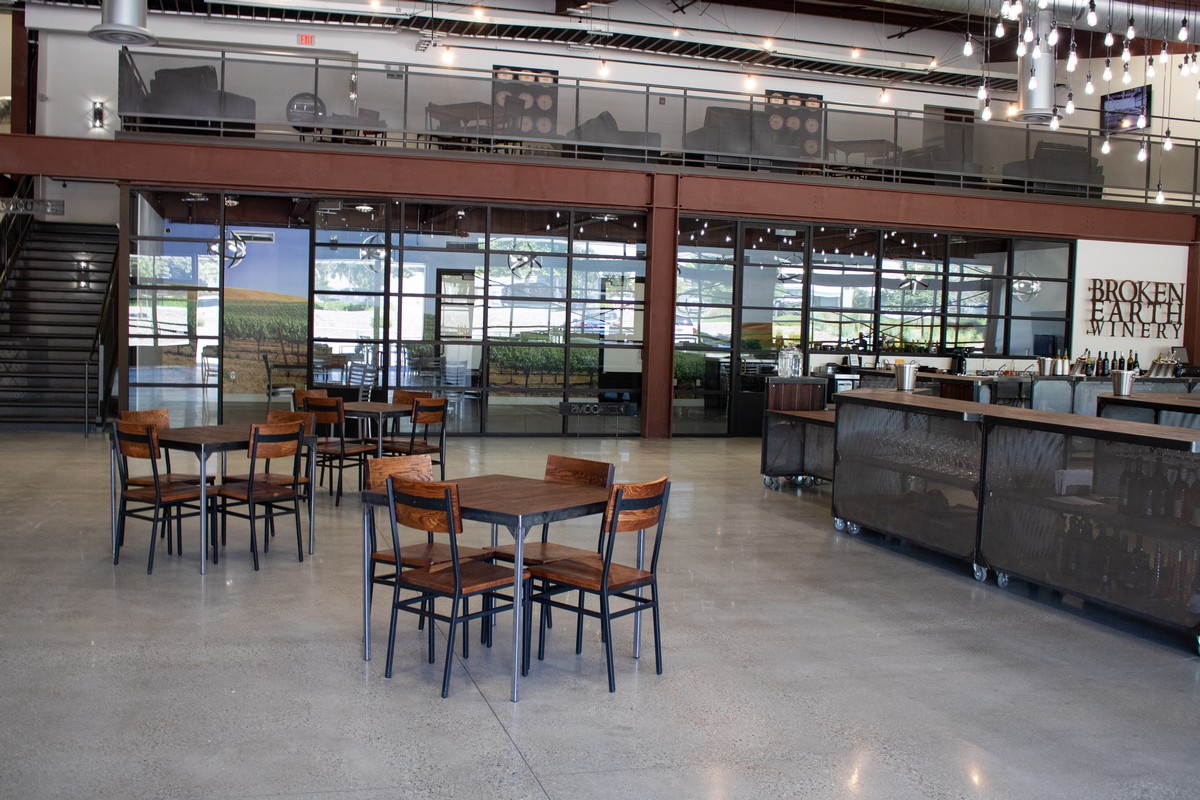 The design also calls out to the streamlined, sleek feel we've been cultivating in our clean wines and our vision toward the future of winemaking. In a space so grand, we knew we had to do something special overhead, which is where our chandelier comes in. Spanning 30 feet with over 130 lights, it was made by Wine Country Craftsman, as were all our other light fixtures, tables, and bar modules.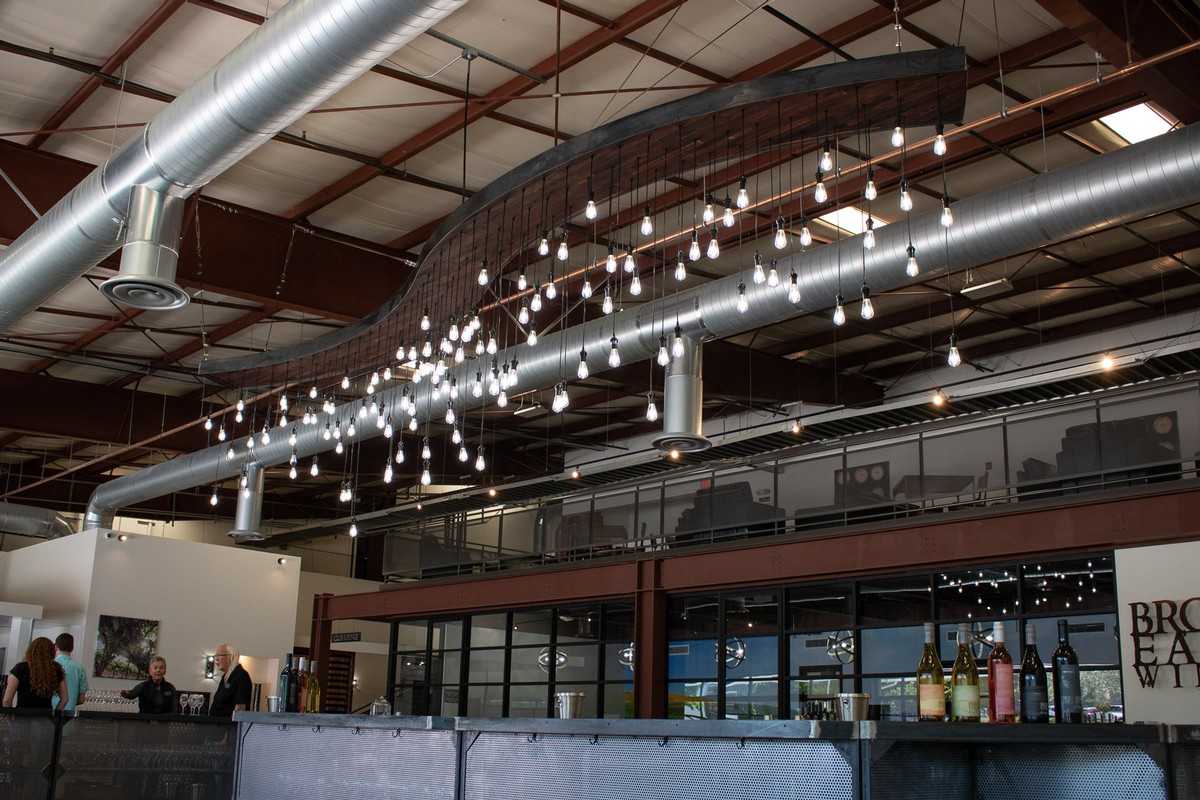 Next, and most important, is the customer experience. When planning out how to use the space, customer comfort was forefront in our minds. From my years of building homes, and the entire team's penchant for going wine tasting, we had a good vision of how to make this space inviting and comfortable for wine tasters.
Our bar is designed as an 'infinity bar'. Also made from the same mix of steel and oak used in the furniture throughout our tasting room, each piece is mobile and can be rearranged and reconnected to create any shape and size that we want to accommodate the needs of our facility.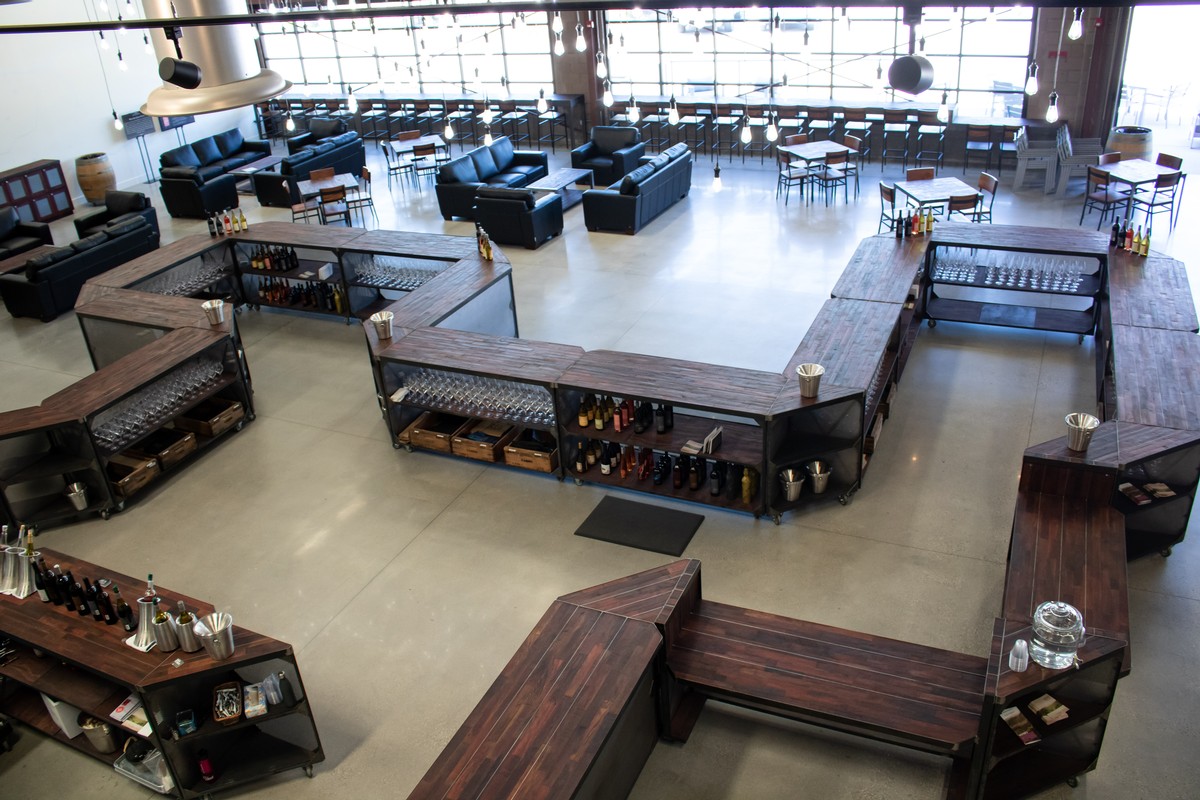 Our lounge areas, both inside and the front patio, feature large couches and chairs to give customers a place to feel comfortable to spend time sipping wine and enjoying the company of their friends.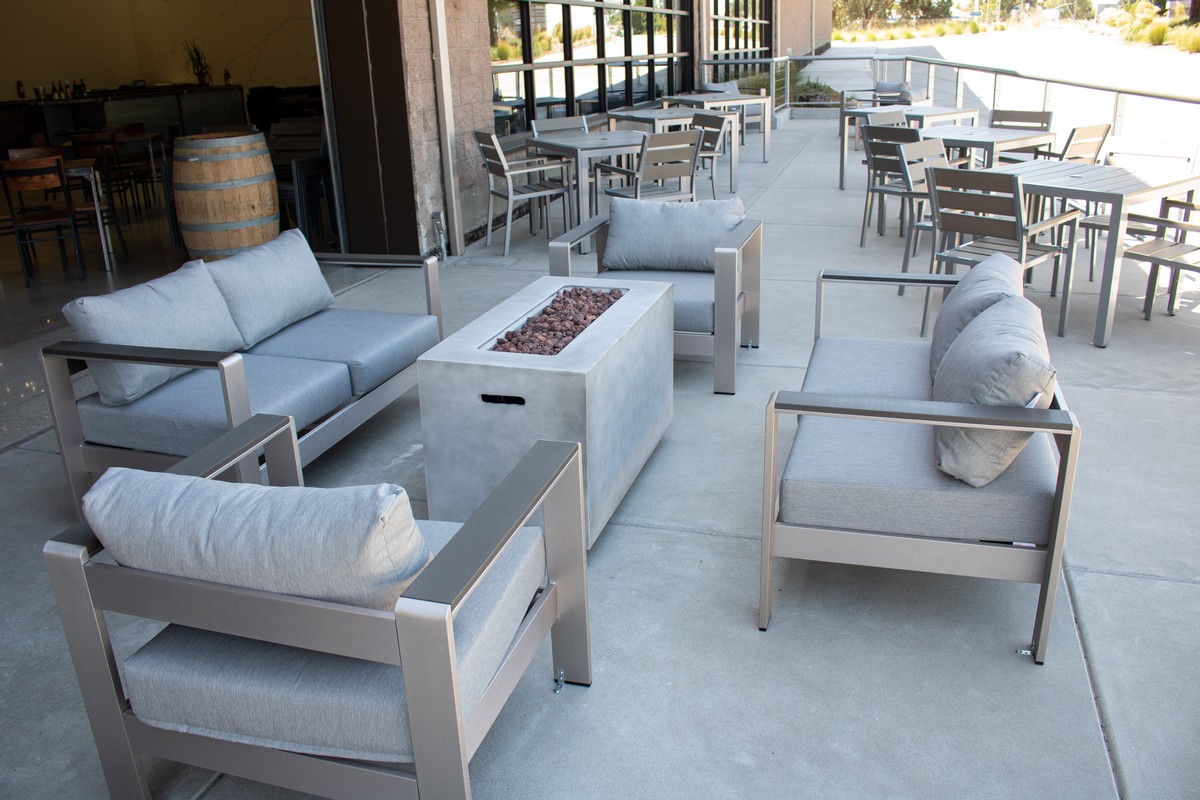 Lastly is our focus on wine education. We have always believed that wine should be approachable, regardless of where your level of knowledge is. All of our staff have different levels of knowledge and we continue to learn more every day. We are happy to simply pour and let you enjoy the wine, or to dive a little deeper and talk about the varietals and processes each vintage and varietal has gone through. And we encourage questions.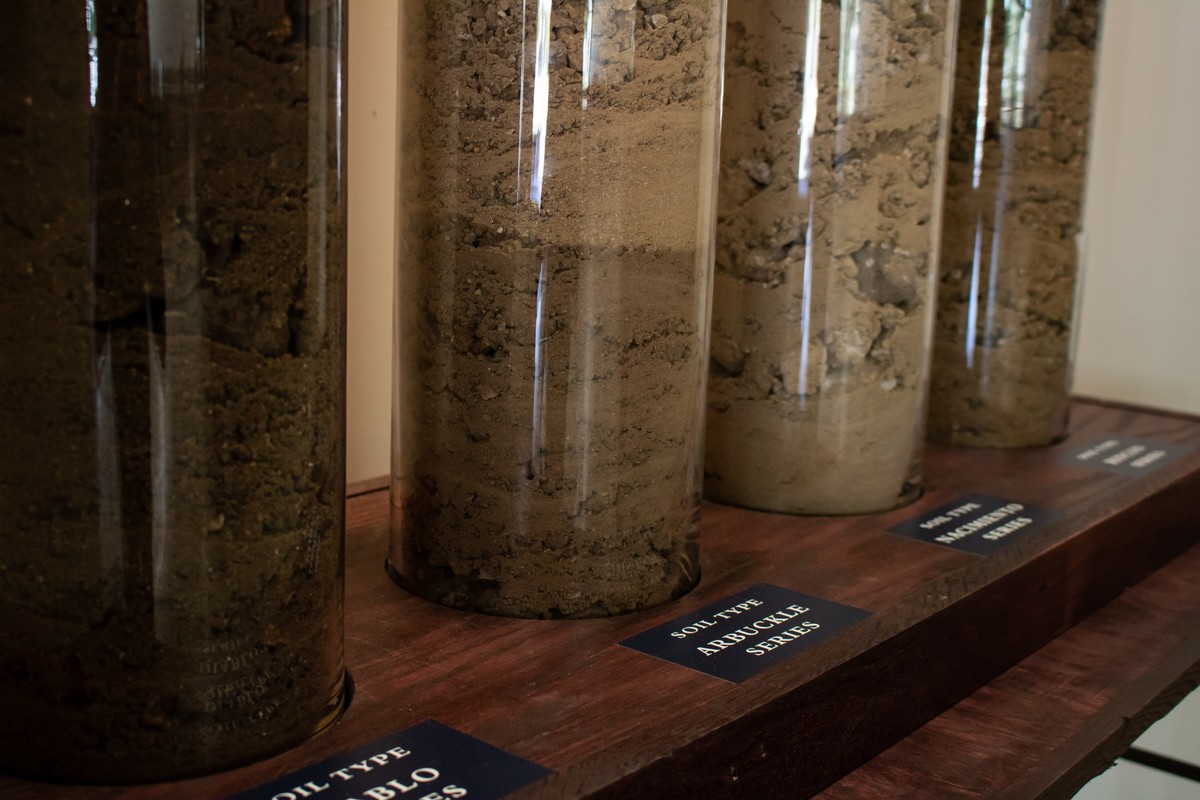 Around our tasting room, we have samples of our Paso Robles soil in place to see the differences we have at our vineyard and how that affects the wine, or our southern wall, which displays visually the stratification of the soil in our vineyard. We also have our conference room, which is wallpapered with a panoramic view of our Estrella district vineyard and used for wine education seminars, meetings, and parties.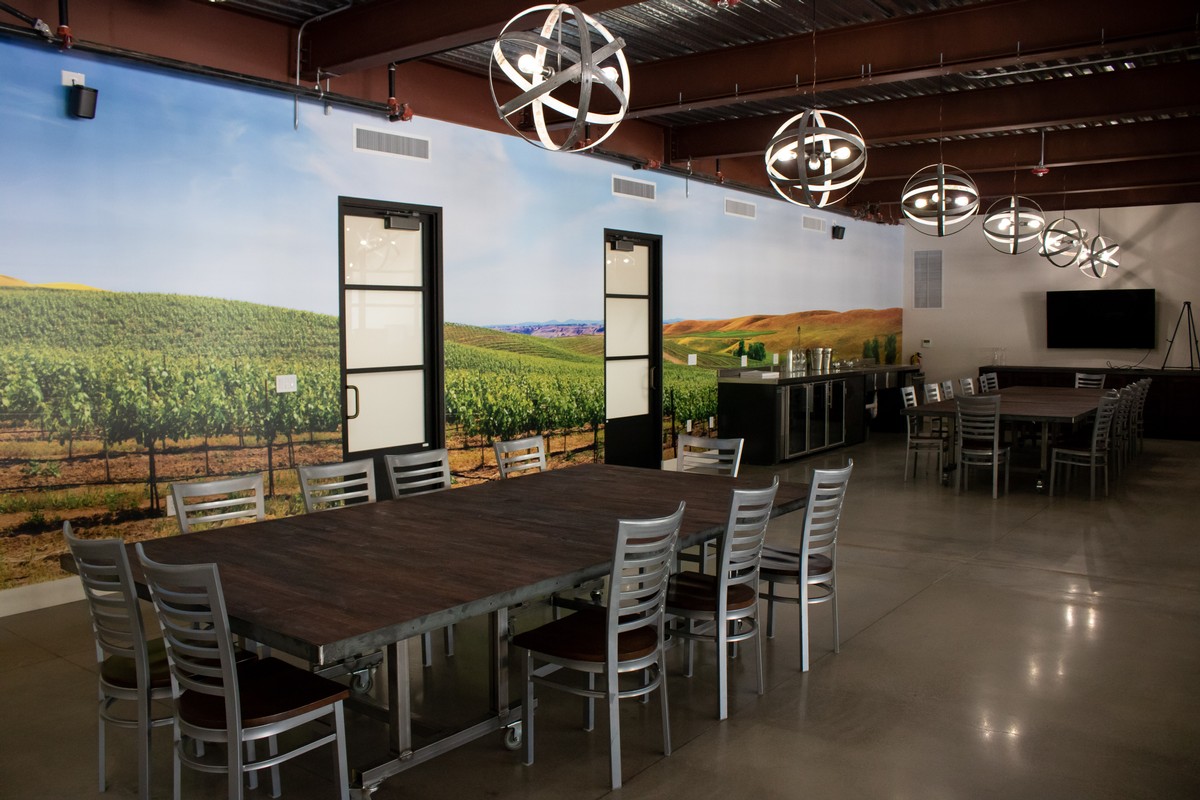 So whether your aim is to learn more about wine, or simply just enjoy a nice glass of it, we would love to meet you. We're open seven days a week, and we stay open late - because we know that people enjoy wine after five o'clock. When you come in, be sure to find me and say hi! Cheers!
-Maury
Tasting Room Hours
Sunday – Thursday | 11am – 7pm
Friday – Saturday | 10am – 9pm