Welcome to the Broken Earth Winery Blog
---

We are pleased to announce that the sparkling wine program at Broken Earth Winery has arrived! These wines have been whispered about for a very long time among those in the know and we are happy to finally introduce the sparkling wine program to our ever-growing portfolio. Both wines, (yes, there is more than one) a sparkling Grenache Rosé and sparkling Merlot were both produced in the traditional méthode Champenoise, or traditional method style.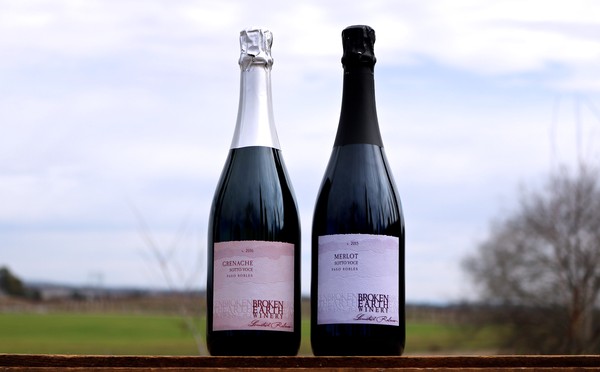 The name itself, Sotto Voce, translated from Italian means literally means "under the voice" or "whisper". The name Sotto Voce was inspired by the "proper" way to open a bottle of champagne or sparkling wine. According to traditionalists, and winemaker Chris Cameron, that subtle 'fssssszzz' sound when opening a bottle should be no louder than a whisper, or to be a little more pithy, never louder than a fair maiden's sigh.
The love of champagne and sparkling wine runs deep in Chris's blood. With time spent at Seppelt in Australia, they were one of the first producers to make a sparkling Shiraz. Chris even worked a stint in the region of Champagne itself. These experiences taught him that the most important part of sparkling wine production is the base wine: the still wine used during primary fermentation. The base wines used for these sparkling wines were Grenache produced in a Rosé style, and Merlot fermented on skins to achieve a deep red color and richer texture. What makes the sparkling Merlot even more interesting is that it spent minimal time on oak, so the pure essence of the fruit shines through.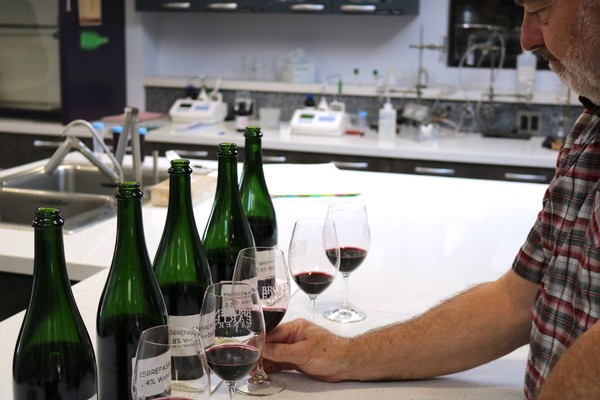 Once the base wines were complete, we sent the wines over to our good friends at Rack and Riddle to complete the méthode Champenoise process. They are a great partner to work with and their services include everything from tirage to dosage. Making a base wine into sparkling wine is quite a process; for more detail on how this happens, click here. But for now, we will focus on one key process: secondary fermentation. This is when the still wine is bottled and more yeast is added, thus creating CO2 which is trapped inside the bottle carbonating the wine.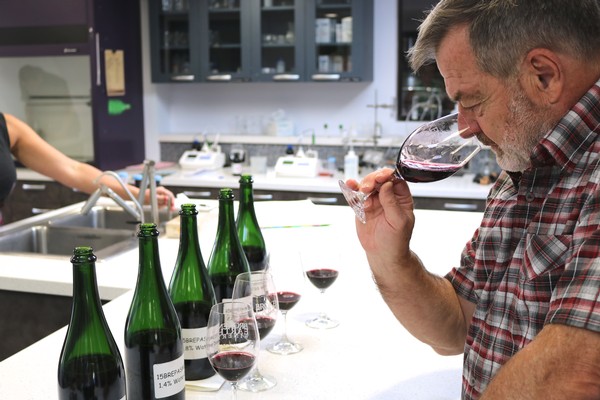 After a little more time and patience, the final step of the process is dosage: the addition of an Exposition liqueur to top off the bottles. The liqueur comes in various degrees of sweetness, therefore tasting trials are done to ensure the wines are properly balanced.
Understanding that this is not the quickest of processes, we are very happy to have taken on this task, knowing something very unique and special lay ahead. Both these wines come across as incredibly gracious in their own way. With the sparkling Grenache Rosé, it expresses a vivacious explosion of strawberries, bubbles, and texture that allows a person to understand the passion that goes into the making of a sparkling wine. The sparkling Merlot contains cherry, licorice, and red currant characteristics: it is a wine that lingers on the palate and stays in the mind even longer. These wines, Chris admits, are something he made for himself, but lucky for us he is willing to share…and break his own rules.