TOP
CITRUS SHRIMP CEVICHE STUFFED AVOCADOS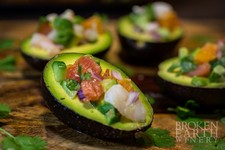 Recipe Date:
July 1, 2016
Measurements:
Imperial (US)
Ingredients
1 lb pound raw shrimp, no shell or tails
3 large ripe avocados
1/3 cup lime juice
1/4 cup lemon juice
1/4 cup orange juice
1 grapefruit, peeled and diced
1 orange, peeled and diced
1 cucumber, sliced and diced
1/4 cup cup red onion, diced
1 serrano pepper, seeds and pitch removed, finely diced
1/4 cup cilantro leaves
Directions
1. Slice your shrimp evenly into thirds and place in a mixing bowl. Add the lime juice, lemon juice and orange juice and stir to combine.
2. Marinate the shrimp for 20-25 minutes, or until they're no longer grey.
3. Drain the shrimp into a colander but do not rinse. Place the shrimp back in the mixing bowl and add the grapefruit, oranges, cucumber, red onion, serrano pepper, and cilantro. Stir gently.
4. Serve by placing a portion of the citrus shrimp ceviche into the hollow of a halved avocado.
If you live in the North County San Luis Obispo - Central Coast of California, Pier 46 Seafood Market in Templeton has excellent seafood and where I bought the shrimp for this recipe.