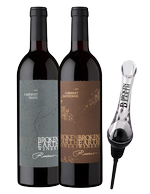 Harvest Reserve Pack
Harvest Reserve Pack
Featuring our two highly rated reserve Cabernet wines, this pack includes one bottle each of Cabernet Franc and Cabernet Sauvignon. Both with amazing structure and balance, Cabernet wine enthusiasts will be delighted by this selection.
2019 Reserve Cabernet Franc: It is a very robust style that retains elegance and finesse. It is quite firm on the palate but the masses of spicy fruit and balancing oak compliment the grip nicely. The color is deep and intense reflecting the wine's brooding nature. Bright natural acidity will ensure this wine ages for many years.
2019 Reserve Cabernet Sauvignon: Vibrant and richly colored in violets and deeper dark undertones, this wine doesn't just hint at being bold, it shouts it from the glass. The smell is somewhat restrained, but that is how our winemaker prefers it. Each sip lends a new scent and flavor to be savored. Black current gives way to clove and spices with the tiniest tinge of lavender lacing the glass and pricking the nose.
Product Reviews