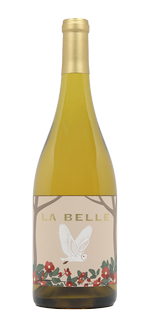 2020 Limited Release La Belle
A new adventure with an old friend. La Belle emphasizes all things lovely about the Muscatel varietal that we have adored, and unfortunately forgotten about over the years. This Muscatel, known by the more common name of Muscat, offers insight into a whole new world of what can be achieved when this grape is produced in a new style.
When popped and poured, the Lily of the Valley florals and deeply aromatic esters erupt out of the glass with the most delicate of force. The effervescence eager to be set free, it delivers with a cloudburst of ripe peach and other stone fruit, enchanting the utmost reaches of the palate. Instead of the wine continuing on with enveloping levels of overwhelming sweetness, it makes an acute turn in the direction of spritely acidity. A graceful summer porch sipper, acting as a foil to those beastly reds so commonly found in Paso Robles and throughout California.
This is a wine that can fly solo, but with its acidity and off dry approachability can stand up to many a cuisine. This wine can stand up to spice and sour dishes, such as Korean barbecue or various curries. Any variation of a farmer's market fresh summer dish will work as a hassle-free pairing as well.
Product Reviews
Tina
(Oct 20, 2021 at 5:36 PM)
Wow! This beauty is delish on its own, but there's not much it won't pair with. For being a moscato, it's not overly sweet. Just a classy touch of amazing nectar. Excellent.