Wine Specs
Harvest Date
October 2016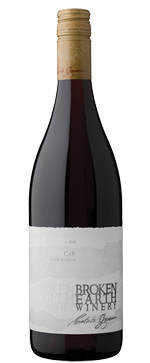 2016 Broken Earth CdR
THE UNIQUE CLIMATE of our Paso Robles vineyard allows us to ripen all of the Rhone varieties that go into this blend to perfection. This CdR is our expression of blends from the famous region of the Rhone Valley in France CdR is a blend of four varieties: Petite Sirah (53%), Syrah (22%), Grenache Noir (16%) and Viognier (9%). Viognier is, of course, a white variety but the grapes are co-fermented with Syrah to greatly enhance texture and mouth-feel in the wine.
Breathe in deeply the luscious floral bouquet and spices, both handed down by Petite Sirah and Syrah. The Grenache lends Bing cherry and red fruit flavors on the palate while the Viognier adds to the acidity and melds well with the supple tannins. The oak offers a subtle vanilla spice while the toast from the barrel adds caramel characteristics for you to enjoy at the end and even after the wine is gone.
The wine is deep garnet in color with the aromas dominated by masses of fruit. Floral on the nose, red fruits with vanilla oak and a hint of spice, and a delicious lingering caramel taste to finish. It's a beautifully balanced red that pairs wonderfully with pasta and a rich sauce.
Wine Specs
Harvest Date
October 2016
Product Reviews
Phil Cox
(Aug 28, 2020 at 5:20 PM)
1st Broken Earth wine for us. Well balanced/smooth mouth feel (sorry for stereotypes). Overall, the best in our recent wine club box!
Delores A Leedy
(Dec 2, 2020 at 4:02 PM)
This wine came to me with an assortment of other bottles from a group or club I joined a few months ago. Although I have a 2 or 3 glasses of wine in the afternoon or evening, I am not a wine expert, I just know what tastes good to me, and I think this is the best tasting of the bottles I have received so far.